Has finally come the time for your well-deserved vacation? Are you impatiently waiting to go down to the beach and enjoy the sun after such a long period of isolation? It has not been an easy time and it is not over yet. But here we are, we keep going, our beautiful island has taken a breath and it awaits you now even more eagerly.
I would like to tell you today more about one of our services, about holiday rentals.
Now, more than ever, one of the first questions you ask yourself when choosing the accommodation for your stay, is security. Feeling safe, not only you, but also your whole family and people around you. Many of our clients decide to rent a private apartment instead of staying in a hotel, since they value their privacy and free schedule. We have so many guests who come year after year and have become more like our friends. They have even started to take ¨their¨ apartment as their second home and love to come back every year to the same place. They know what awaits them, no surprises.
Due to the situation we have lived in receintly, the lock down, one of the main reasons, perhaps the most important, for choosing this accommodation is FEELING SAFE. Our guests arrive directly to the apartment they reserved, minimize social contact with other travelers, go through a private check-in and enjoy their privacy. We guarantee professional cleaning and disinfection of the facilities. Among other advantages of this kind of accommodation, we can add the price, especially if you travel in family or group.
You have a great variety of accommodation, from the small cozy apartments to amazing villas with private pools. The apartments have fully equipped kitchen to use, in case you are not in mood to go out. Our team is at your disposal to prepare for you an unforgettable vacation. We organize all types of excursions, restaurant reservations, private dinners, spa treatments, transfers…
Are you ready to make a booking? I will be very happy to assist you.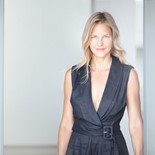 Markéta 
Second Home Tenerife, Office La Caleta
marketa@secondhometenerife.com
+34 670390821